ABOUT ME: Laurence Dimock
In a Nutshell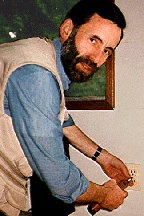 I am Laurence (aka Larry) Dimock. Born in 1947 and married (just once), I have five children and seventeen grandchildren. I grew up in California and Seattle, graduated from the University of Washington (Philosophy), and went on to Harvard Divinity School (M.Div.). Recently I completed a current English translation of the New Testament.
Professionally, I learned the electrical trade (starting in 1977) at MonArc Electric, Sno-Valley Construction, and Nims Electric. In business as Short Stop Electric starting in 1982 and operating out of my home in the state of Washington, I developed a strict specialization in troubleshooting home electrical malfunctions in 1997. The "Circuit Detective" name since then indicates this troubleshooting emphasis. Though retired now, I was a licensed master electrician for homes and a licensed electrical contractor in the state of Washington.
The Story
Soon after those graduate studies long ago, I went into the Protestant ministry. But four years into that, it occurred to me that the Catholic Church was the one that had been kept apostolic (true to what Christ had entrusted to the apostles). I promptly resigned to become a Catholic. As uncommon as such a move was then, it is not uncommon now. Just Google these words together: protestant pastors catholic converts.
With a (non-Catholic and nonplussed) wife and three children, I was unemployed. From my background, I would never have thought to go into the electrical trade. But I had to think fast of a field that could put bread on the table again. It was somewhat arbitrary. My studies had been in philosophy and theology. I worked with ideas and people, not objects or technology. But maybe I hadn't been all that good at what I had been doing anyway.
I did consider that something using my hands, something concrete rather than so abstract, could be a good change. Like what? Carpentry, police work, driving taxi? The relative of a friend ran an electrical contracting business but didn't need new help. But the concept of electrical work -- whatever that consisted of -- grew on me a little as I took on various stop-gap temporary jobs. A few months later this same contractor suggested I go to the apprenticeship night-school sponsored by a contractors' organization.
So I went back to school. The first day I didn't know if it was for people who wire table lamps or who wire cars or who wire buildings. It turned out to be buildings. After about a month, my deskmate said his boss was looking for more help. I was in. It was indeed a new world -- wiring new houses. Hard work. Hard to understand all the details and all the reasons things were done the way they were. Electrical work does use the mind to a good degree, as well as the body.
When the boss's work overload subsided, a larger company was willing to overlook my "over-education in the wrong direction" and hired me on the basis that I already had a little experience now and wasn't sick of the work. Yes, it was boom times in our area in the late 1970's, and they were desperate. The journeymen taught me how to get fast and efficient. I had to teach myself how to do that without getting hurt. I mean, my injuries had to teach me. I learned to mount boxes, drill holes, pull cable, make connections, install breakers, read blueprints, please inspectors, and -- heaven help us -- wield a sledge hammer to drive an eight-foot ground rod all the way down into the pile of rocks they built some houses on. It was good to get home those days. And to go to bed early.
After a year, another contractor wooed me over to his operation, which had more variety -- like replacing fuseboxes with circuit breaker panels (in a single day, since there were actual people living in such houses). And crawling in attics and under-floor spaces to add a few outlets to a home. When you have a job to do, little things that used to bother you -- like spiders and, oh, getting shocked -- are put up with as part of the job. Actually, getting shocked teaches a person a lot of lessons very fast and very unforgettably.
I got to help in some lightweight commercial wiring too, but the residential work was, you could say, closer to home. It fit me better. I liked being of direct use to people where they live, the way handymen are.
This contractor sold out to another company, where I finished my apprenticeship and got to deal with some ugly looking jobs -- restoring wiring for houses damaged by fires. The economy was also burning down, it seems, because these folks had to lay me off after two years. They suggested, though, that I could probably survive by going into business for myself. It sounded like a reasonable next step. I would like being my own boss. And not laying myself off.
Being in business is a different sort of job itself. I didn't go the route of bank loans and accountants and hiring employees. I worked pretty much by myself, but to say that I worked for myself is misleading. I worked for my customers. And they can become as directive and demanding as any employer. I just got to have more of them. If I disliked one enough, I could make my next bid to him unreasonably high. Employers can be laid off too.
In the first fifteen years of my electrical business I took on most any residential project that did not call for more than one person. I wired or rewired houses, apartments, mobile homes, even a houseboat. Designing and installing were the main tasks, but I was regularly called on to deal also with malfunctions in what had already been installed (sometimes by me). Doping out these glitches in a wiring system appealed to the detective in me even then, I suppose. So when the physical aspects of work started to weigh more heavily on me, it occurred to me that this diagnosing of circuit problems might be a perfect way to use my experience into older age.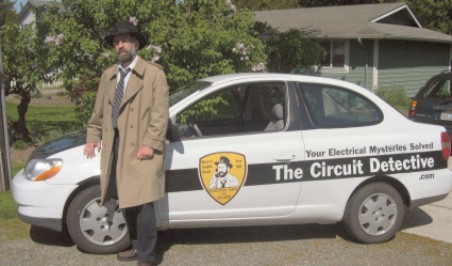 In the late nineties I made this transition into troubleshooting. Large companies can sometimes have one man specialize in "service" work, but for me to specialize, I had to make a habit of turning away all the customers who had projects in mind. I had to make myself more available, waiting to hear, for instance, from the desperate person whose kitchen lights or oven circuit has died the day before they are to host Thanksgiving there. And I had to expand my advertising and my territory. I spent as much time getting to jobs as working on them, because as I became efficient at it, the average diagnosis and repair job took less than an hour.
Now that I am retired, why do I share my trade secrets on a website? I suppose I am embarrassed for people when they call in a professional for something simple they could have handled. And I admire it when people want to learn how to be more responsible for the care of their own homes. I do, in fact, intend this site mostly for the homeowner, the landlord, the do-it-yourselfer, the handyperson, and the handy neighbor or relative. But the general electrician should benefit from it too. Since I have the desire and the patience to convey this technical wisdom, here's the website.