Circuit Down!


Home Electrical Repair Book
A Perfect Birthday or Holiday Gift
Outages and short circuits are only two of the ways electricity can go wrong around home. Circuit Down may be the only really thorough book on home electrical circuit problems out there, but it's not overly technical.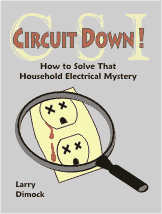 Maybe this home electrical repair book should be part of your emergency kit. And not just yours -- what a great birthday gift for Dad! Or anytime, for the handyman or handywoman around home. Even engineers, electricians and their apprentices can pick up tips here.
Home maintenance isn't always simple, but it just got easier with this electrical how-to book.
Circuit Down is available from Lulu as a $14.99 spiral-bound and as a $5.00 ebook. Get both!
As a birthday or holiday gift idea, you are telling the person that you believe in their home improvement abilities and you want them to be just as competent in electrical troubleshooting. A perfect gift for the do-it-yourself-er in your life.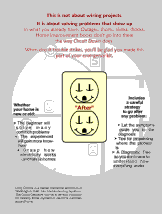 Circuit Down is for U.S. and Canadian homeowners, by an electrician. Larry Dimock has been in the electrical trade continuously since 1977. The troubleshooting emphasis of his business has given him a unique sympathy for people as they suffer the various electrical ills that can bother a home. By this home electrical repair book, he seems to want to empower the public with a practical education in a subject too often shrouded in cautions, as if only those initiated into a secret brotherhood can understand what they are dealing with. See these Reviews on Amazon and this one on Barnes & Noble.
Over thirty illustrations and charts, together with clearly written text, make household electrical problems much more understandable and solvable. Graphics in the book are black-white-gray to keep the cost down.
What does the book cover? Here are the chapter titles from the Table of Contents:
Safety
Your Electrical System
How Things Go Wrong
Diagram of a Typical Circuit
Three- and Four-Way Switches
Ground-fault Interrupters (GFCIs)
Two-circuit Cables
An Open on a Main Wire
Pitfalls in Replacing Devices
Labeling Your Panel
Testers
A Troubleshooting Strategy
Has Something Tripped?
How to Test for What
Locating & Troubleshooting GFCIs
Correcting Outlets (for Real Estate)
Recognizing Poor Connections
Repairing
A Diagnostic Tree
Frequently Answered Questions
Particular Appliances & Switches
Brief Troubleshooting Tips
Thoughts on Electrical Fires
Stories: Detective Cases
Glossary
Help From the Author
What is not in this 2007 book, but is on the website?
"I was going to donate to you, but decided to buy your book instead. I don't run into these problems very often, and probably won't be able to find your website again. A good book will last a lifetime." -John, KY

"I'm new to electricity but an avid DIYer, and your site has helped me to understand FAR more about how the electrical system works in my home. It is straight-forward and simple enough for even we 'electrically-challenged' to grasp quickly, while providing the answers to many otherwise confusing situations we encounter every day. You should consider writing a book!"

"I've read just about all the books out there and you'd think each of the authors had never seen anything wired more than one way; clearly you know better than that!" -Leslie